In the winter our garage becomes the junk drawer of our home. The clutter builds until spring comes and my husband anxiously awaits Bulk Waste Trash Day* – mostly referred to around here as Riff-Raff Day but as he refers to "the most wonderful time of the year" - and yes, he sings that. In other words, it's time to clean the garage.
If it's that time of the year for you as well, here are some tips to help make and keep the garage clean and organized.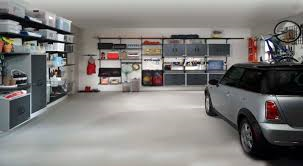 Choose a mild, dry day so you can remove everything from the garage, clean cobwebs, and sweep and power wash the floor.
Determine what is truly junk and what is not. If you have items you no longer want to keep that could be used by someone else, consider donating them to charity**.
If they still have a little life left but are not good enough to donate, we put them out to the curb a few days before bulk waste collection day so the local scavengers will take them. For anyone new to the Centre Region, I suggest you don't put tied garbage bags out early during Bulk Waste week. The first year we lived here, we had garbage strewn throughout our yard from people opening bags to see if there was any good junk in them.
Once you know what you will keep, then it's time to create a place for everything and everything in its place. There are some great pinterest sites, Get things off the floor, tools properly placed in bins or tool chests and household items in bins, on shelves, or on hooks. Oil, gasoline and other flammables need to be stored out of the reach of children. Organize, organize, organize. Here's a great site for creative ideas. www.listotic.com/brilliant-garage-organization-ideas Create extra storage, too, so you have a little space for any new clutter.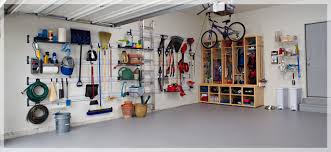 Replace light bulbs that have burned out. Make sure you have a fire/carbon monoxide detector and replace the batteries in it every year.
If you have an automatic garage door, be sure there is an automatic reverse eye and that it is working properly. Replace batteries in the garage door remotes.
There is some new, fairly inexpensive technology that you may want to consider. MyQ Garage can change nearly every garage door to work with your smart phone so you can tell if it is opened or closed and can open or close it from just about anywhere. You may consider a back up battery system for electrical outages, like LiftMaster's 475LM EverCharge Battery Back Up System. And for those of you, who always forget to turn off the lights in the garage, consider installing a Motion-Detecting Control Panel.
After the cleaning, sit back in your easy chair knowing that there's no need to cringe with embarrassment the next time you hear the garage door open.
Happy Spring!
*Bulk Trash Week in the Centre Region is May 18-22 this year. Collection Guidelines
**Charities that accept good, used items in the local area:
Centre Peace (814) 353-9081; Interfaith Mission (814) 234-7731; Goodwill (814) 237-8006;
St. Vincent DePaul (814) 867-3131; Habitat for Humanity (814) 353-2390